No1 Currency is one of the UK's leading foreign currency exchange retailers, with a network of stores covering most of the UK. Known for its great reputation, quick and professional service and unbeatable rates, the little red and white shop is always prepared to serve anyone! 
One of the busiest No1 Currency bureaus is their corner store on Waverley Bridge at our entrance. Its story began when the shop was launched outside Waverley Market on 31st January 2003 to serve travellers and those returning home from an array of countries. Today, the bureau is conveniently accessible to all travelling through Waverley train station or the city centre of Edinburgh overall and is located a 5 min walk from Edinburgh bus station and Airlink 100 airport buses stopping at the St. Andrews Square. You cannot miss it (even though it is tiny!)
No1 Currency prides itself on the local service it offers, and its commitment to meeting the needs of the customer. As a result, they work with an array of different currencies and stock many right in store! You can order anything from more popular currencies such as euros, American, Australian and Canadian dollars, Swiss Francs to more specific ones like Philippine pesos, Jamaican dollars and Omani Reals. No 1 Currency is also one of the rare places in Edinburgh to accept 500 euros notes and euro coins and they work completely commission free! Sounds too good to be true? Come and see them the next time you have some serious money exchanging business to do!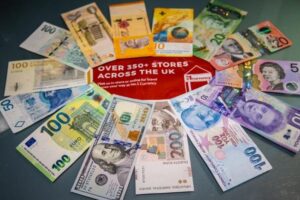 Below are just a few additional services they offer, but feel free to pop to the shop or call them on 0131 557 5700 to discuss further! 
Click & Collect
'Click & Collect' option allows you to reserve the currency online at the enhanced website rates and then pay and collect in store with no minimum spend or deposit required. 
Home Delivery
Order online and they will deliver straight to your door. Home delivery is FREE on all orders of £750 or more with no minimum spend or deposit required. 
Click & Sell
Sell unused currency online, exchange and collect in store with 0% commission, no minimum spend or deposit required. 
Western Union
Their friendly and knowledgeable staff are also ready to help you with the international money transfers – just remember to bring your ID.
Where and when to find No1 Currency
You can find them on Waverley Bridge, just outside Waverley Market, 3 Waverley Bridge, Edinburgh EH1 1BQ, open 7 days per week from 10am until 5.30pm.
Please get in touch on 0131 557 5700 or visit their website for more information: www.no1currency.com.