Born in Scotland launched in Waverley Mall in October 2019 as an alternative to traditional Scottish gift shops which are generally aimed at the tourist market. The shop has since gone from strength to strength thanks to its focus of championing the real Scotland with all of its humour, creativity and irreverence – there aren't many shops that will give you a chuckle while browsing, but that's pretty much guaranteed in Born in Scotland!
Stocking a wide range of cards, jewellery, food, clothing and other unique gifts, Born in Scotland are passionate about supporting local, independent Scottish artists and suppliers and this is evident throughout the shop with their eye-catching displays of quality products with no tartan tat in sight. Whether you're looking to treat your mum, boyfriend, sister or mother-in-law, want a Scottish souvenir that won't be hidden in a drawer or just want to stock up on your favourite Irn Bru bath products, Born in Scotland is the place to go.
Staff spotlight
Want to know more about the people behind Born in Scotland and how they choose what fills their shelves? We had a chinwag with Operations Manager Nicola Duffy who gave us the lowdown…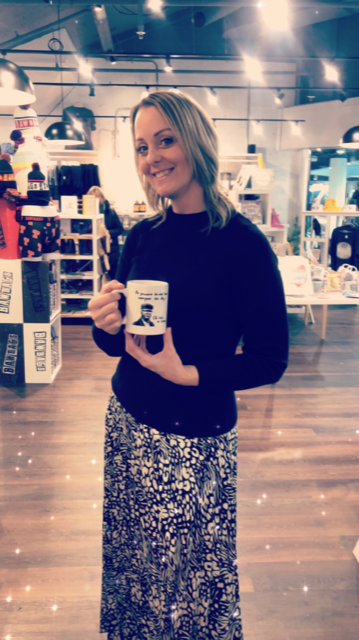 Where are you from? I grew up in Midlothian and still live there with my husband and two kids.
How long have you worked at Born in Scotland? I have worked for owner, John, since 2014 within other areas of the business so I've been involved with the Born in Scotland brand since the very beginning. It's been amazing to help it develop and evolve over the past 12 months from setting up the store, buying the product and now seeing how much our customers love it!
How do you decide which products to stock in Born in Scotland? Buying products is one of the most exciting parts of my job, I absolutely love it! I think for me everything we stock has to make me smile whether it's through humour, taste, look or smell. We didn't want Born in Scotland to be another tartan gift shop, we wanted it to appeal to local people and offer Scottish gifts that you actually want to buy. Hearing people laugh and have fun in store, especially at the moment, is really special and what makes our brand so unique.
What's your favourite product at the moment? Argh! That's tough! I can't choose just one! The range of lockdown cards from Hiya Pal have made me laugh so much, my 40th was at the height of lockdown and like so many other people I missed the normal celebrations and I think this selection of cards hit the nail on the head perfectly.
I am obsessed with fudge and White Chocolate from Ochil Fudge Pantry is my absolute fave!
Candles & diffusers are another staple in my house, right now I have the newly launched Cremola Foam one from Cheryl Jones Designs and the Bog Myrtle & Mint range from Isle of Skye Candles. Both smell truly amazing!
Lastly it has to be the mugs from Gie It Laldy. There is a saying there for everyone and probably the biggest talking point in our stores. Love love love them.
Whats your favourite Scottish word or phrase? I think it has to be hen, hiya hen, awright hen, aye hen, still got it hen – all brilliant!
Featured products
Find Born in Scotland on the upper level of Waverley Mall or visit their website.